Sanjhi Soch Beauro – Embroideries in India narrating the cultures and traditions of different regions have come a long way. The detailed and painstaking art being documented in shawls, Kurtis, table cloth, dupatta and other clothing has been a part of our aesthetics for centuries. Celebrating the nation's rich heritage, the Department of Posts has dedicated its 2021 annual E-calendar to the Embroideries of India.
In the annual E-calendar released last week, the Postal department has used the opportunity to narrate stories behind Embroideries belonging to different regions that are now famous worldwide.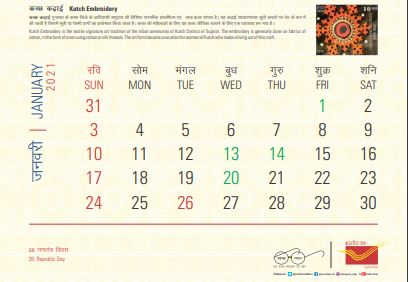 The calendar displays embroidery designs belonging to different states including Punjab, Bihar, Uttar Pradesh, Andhra Pradesh, Gujarat, and Karnataka.
"Phulkari is the most famous rural embroidery tradition of Punjab. It finds mention in the Punjabi folklore of 'Heer Ranjha' by Waris Shah. It uses a dam stitch done from the wrong side of the fabric using darning needles, one thread at a time, leaving a long stitch below to form the basic pattern," reads the calendar while narrating Punjab's famous Phulkari.
It also mentions Chamba Rumal explaining its connection to Bibi Nanki, sister of Guru Nanak Dev in the 16th Century.
"Chamba Rumal is an embroidered handicraft that was promoted under the patronage of the rulers of Chamba kingdom. Earliest reported form of this rumal is the one made by Bebe Nanaki, sister of Guru Nanak Dev Ji in the 16th century, which is now preserved in the Gurudwara at Hoshiarpur."
Similarly, describing Karnataka's famous 'Kasuti', the calendar gives a brief history of the art that dates back to the Chalukya period.
"Kasuti work is very intricate and sometimes involves crafting up to 5,000 stitches by hand. Its history dates back to the Chalukya period. The pattern to be embroidered is first marked with charcoal or pencil and then proper needles and thread are selected. The patterns are stitched without using knots to ensure that both sides of the cloth look alike."
Likewise, the calendar also illustrates Kashmiri, Shamilami (from Manipur), Kamal Kadhai (Andhra Pradesh), Kantha (West Bengal, Tripura, and Odisha).